UND School of Law ranked sixth in Scholarships Hall's '10 Most Affordable Law Schools in the U.S.'
10 Most Affordable Law Schools in the United States
Posted by 
Finding the most affordable law schools in the United States can be tough, especially when a student understands that the United States has 237 law schools to choose from.
Individuals who do not have the financial means to pay a $43,000 yearly tuition cost must find a school that will give them the degree they want as well as a road to sitting for the bar examination, which is required to practice law.
In the United States, there are a variety of affordable law schools, the majority of which are accredited by the American Bar Association. Because ABA clearance is required to sit for the bar, this is an excellent first step toward obtaining a cheap degree.
These institutions also provide a wide range of specialties and degrees, making them an excellent choice for students who already know the specialization they want to follow as a career. The ten institutions listed below are all excellent choices and will serve as a good beginning point for those who want to pursue their career in law.
Also read: 15 Best Community Colleges In Canada For International Students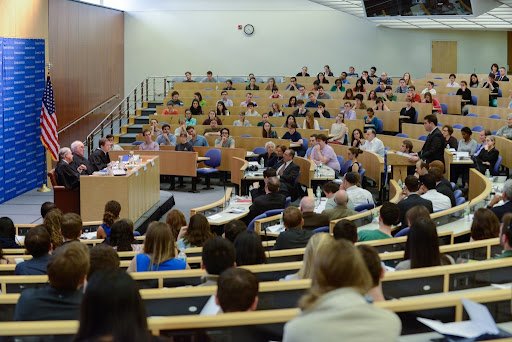 Criteria for ranking
The National Center for Education Statistics and its publicly available College Navigator Database, as well as information based on each school's average yearly tuition and its U.S. News & World Report Best Law School Ranking, were used to construct this point-based ranking.
The first 40 institutions were chosen after a search for the most affordable law schools. The schools were then given points based on their average yearly tuition rate, which includes both in-state and out-of-state tuition fees, as well as their Best Law School Ranking, as shown below:
TUITION
Under $15,000: 3 points
$15,001 – $24,999: 2 points
$25,000 and above: 1 point
U.S. NEWS AND WORLD REPORT: BEST LAW SCHOOL RANKING
Top 100 or more: 1 point
Top 75: 2 points
Top 50: 3 points
Top 25: 4 points
Also read: 10 Esthetician Schools Online: Courses, Schools & Certification
SUMMARY RANKING OF TOP 10 MOST AFFORDABLE LAW SCHOOLS:
The University of Arkansas
The University of Alabama
The University of Mississippi
The University of Georgia
The University of Montana
The University of North Dakota
The University of the District of Columbia
CUNY School of Law
Southern University Law Center
The University of Wyoming
6. The University of North Dakota (Grand Forks, North Dakota)
The University of North Dakota has an average program cost of $16,896.
Points: 2 points
The University of North Dakota is one of the most affordable law schools in the United States. This is a tiny public law school with instructors that have substantial experience in the profession, which students will appreciate.
With a student body of roughly 250, our school provides both valuable and intimate educational experiences for students who are eager to pursue their ambitions of becoming lawyers.
This cheap school offers academically demanding and experiential learning classes; the program involves three years of real-world experience, classroom lectures, Lawyering Seminars, trial court hearings, and more.
A minimum of 89 credit hours of coursework, an internship, an externship, competitions, and comprehensive tests will be expected of students. Contacting the school's admissions office for more information is a good idea.
Average Program Cost: $16,896
In-State: $10,464
Out-of-State: $23,328